George Payne Rose
General notes:
Silversmith and jeweler
Events in his life were: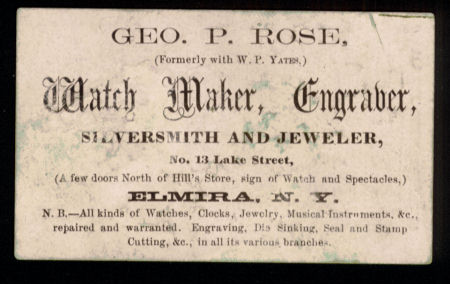 Tradecard, c 1870
Private Collection
Geo. P. Rose
(Formerly with W. P. Yates.)


Watch Maker, Engraver


Silversmith and Jeweler
No. 13 Lake Street
(A few doors North of Hill's Store, sign of Watch and Spectacles)
Elmira, N. Y.
N. B. -- All kinds of Watches, Clocks, Jewelery, Musical Instruments, &c.,
repaired and warranted. Engraving, Die Sinking, Seal and Stamp
Cutting, &c., in all its various branches.