Chauncey Jerome
Born: 10 Jun 1793, Canaan CT

Marriage (1): Salome Smith on 9 Apr 1814 in Plymouth CT

Died: 20 Apr 1868, New Haven CT
General notes:
Clockmaker and Mayor of New Haven CT (1854-1855).
Events in his life were:
He worked in 1811-1821 as a case maker in Plymouth MA originally apprenticed as a joiner, he began making tall case clocks in 1811. In 1816 he produced shelf clock cases for Eli Terry. In the winter of 1816 he claimed he had produced the first Terry pillar and scroll clock case.
He worked in 1821-1825 as a case and Clockmaker in Bristol CT on first arriving, he only made and sold clock cases. He soon began exchanging some of his cases for wood movements and selling finished clocks. He claimed he invented the bronze looking glass clock in 1825, which revolutionized the whole clock business. The bronze looking glass clock could be made for one dollar less and sold for two dollars more then the patent case then popular.
He was a partner in 1828-1833 with Noble Jerome, Elijah Darrow, and Chauncey Mathews in Bristol CT as JEROMES & DARROW.
He was a partner in 1834-1839 with Noble Jerome in Bristol CT c.& N. JEROME
He worked in 1840-1857 as a clockmaker in Bristol CT as JEROME & CO. In early 1845 a fire destroyed his entire shop and works. He rebuilt the firm under the name JEROME MANUFACTURING Co, with a wholesale outlet in Boston at 71 aand 73 Hanover Street. In 1856, the company was forced into bankrupcy after a series of bad business investments and was bought out by The New Haven Clock Co.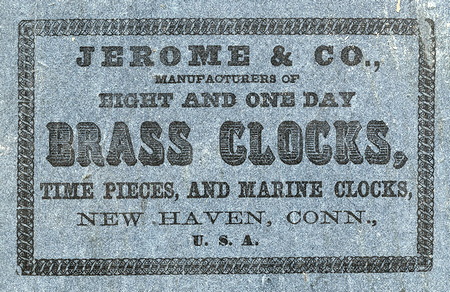 Clock case label, c 1850
Winterthur Library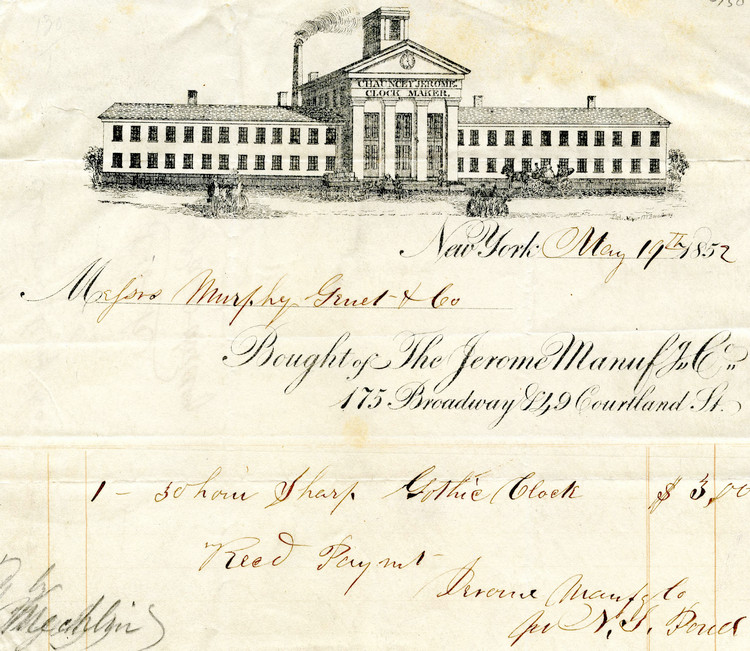 Receipt, 19 May 1852
Winterthur Library

Chauncey married Salome Smith on 9 Apr 1814 in Plymouth CT. (Salome Smith was born in 1794 in Milford CT and died on 6 Mar 1854.)