John O. Mead
Born: 14 Oct 1806, Connecticut

Marriage (1): Julia Perkins on 19 Oct 1830 in West Springfield MA

Died: 27 Nov 1874, Philadelphia PA
General notes:
Silverplater
Events in his life were:
He worked in 1830-1835 as a silverplater in Chicopee MA overseeing the plating and gilding work at N. P. Ames Manufacturing Company. 12
He worked in 1835-1840 as a silverplater in Birmingham England learning the new technique of electroplating. On returning to America, he set up a small factory in Philadelphia, probably the first in the country to practise the technique. 12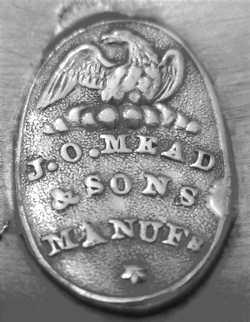 He worked in 1840-1867 as a silverplater in Philadelphia PA
His firm took various forms and partnerships over time. His sons, James and Edmund, worked with him as J. O. MEAD & SONS for several years. 12

He was a partner about 1850-1855 with Harvey Filleyand Jay Cadwell in Philadelphia PA as FILLEY, MEAD & CADWELL, silverplaters with a shop at 436 High Street. Cadwell left the firm after a short time due to ill health and his name was dropped. 12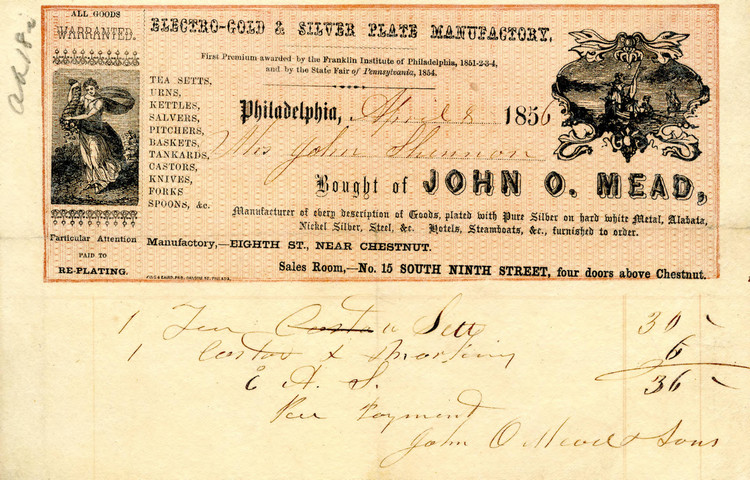 Receipt, 8 Apr 1856
Winterthur Library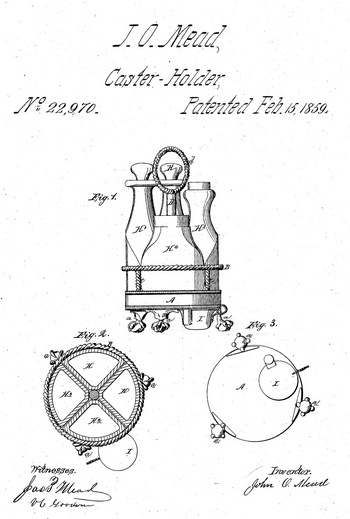 He was issued patent number 22,970 on 15 Feb 1859

JOHN O. MEAD, OF PHILADELPHIA, PENNSYLVANIA.
CRUET OR BOTTLE FOR CASTERS.

Specification of Letters Patent No. 22,970, dated February 15, 1859.

To all whom it may concern:
Be it known that I, JOHN O. MEAD, of the city and county of Philadelphia and State of Pennsylvania, have invented a new and useful Improvement in Bottles for Cruet and other Stands; and I do hereby declare the following to be a full, clear, and exact description of the same, reference being had to the accompanying drawing and to the letters of reference marked thereon. My invention consists in so constructing the cruets and bottles of cruet stands, that they may be adapted to each other and to the stand substantially in the manner described hereafter, in order that they may occupy but little space without any diminution of their requisite capacity, and thereby render the whole stand more compact and portable.
In order to enable others to make and use my invention, I will now proceed to describe its construction and operation.
On reference to the accompanying drawing, which forms a part of this specification; Figure 1, is an exterior view of a cruet stand with cruets, illustrating my improvements. Fig. 2, a sectional plan, on the line 1, 2 (Fig. 1). Fig. 3, an inverted plan of the base.
Similar letters refer to similar parts throughout the several views.
The cruet stand consists of a circular box or disk A, supported by the-three legs a, a, a. Above the circular box is a ring B of the same diameter as that of the box, and secured to the latter by vertical strips C. A central rod D is attached to the box, and on the top of this rod is an eye d, forming a handle by which the instrument may be carried about. The stand, which may be made of ornamented silver or plated ware, differs but little in external appearance from ordinary cruet stands, excepting that it is much smaller in size. The internal arrangement of the box A, however, is very different from that of the usual cruet stands, in which the boxes are divided by partitions into separate compartments, one for each bottle or cruet. These partitions are entirely dispensed with by my improved construction of the bottles or cruets themselves.
On reference to Fig. 2, it will be observed that there are four separate vessels or cruets H, H1, H2, and H3, and that the section of each represents a triangle, one of the sides of which is curved, so as to be adapted to the curved interior of the box, the other sides being straight and coinciding with a radial line, drawn from the center of the rod D to the circumference of the box. It will thus be seen, that the four vessels or cruets occupy the whole area of the box, with the exception of a trifling amount in the middle, where the corner of each vessel is cut aAvay, in order to make room for the central rod.
Now it is evident that if the ordinary round bottles or cruets were used, in a stand of this size illustrated, and each bottle was separated by the ordinary partition, they would be far too small to serve the ordinary useful purpose. When the bottles are formed as shown in Fig. 2, however, their capacity must necessarily be increased and be amply sufficient for the contents desired.
The whole instrument is thus condensed into that small compass, which renders it more convenient to carry about than the ordinary cumbrous cruet stand, and this without any sacrifice of capacity. It is especially well adapted for use in hotels, and dining rooms where meals have to be conveyed from room to room, as the instrument occupies but little space on a tray.
Another advantage of my improvement is that the bottles or cruets are packed so closely together and so adapted to each other, that the rattling about common to the usual stands is for the most part avoided.
To the underside of the box A, a cup I for containing salt is hinged in such a manner that it can be readily turned away from the box, when the contents are exposed and a portion of them abstracted, and as readily turned back underneath the box, so that the cup is covered and the contents prevented from escaping when the instrument is carried about from place to place.
I do not desire to confine myself to the use of four bottles or cruets only, inasmuch as more or less than that number may be adapted to each other and comprised within a small compass, in the same manner as the four: But
I claim and desire to secure by Letters Patent:
Constructing the cruets or bottles of cruetstands so that they may be adapted to each other and to the stand, substantially as herein set forth and for the purpose specified.
In testimony whereof, I have signed my name to this specification in the presence of two subscribing witnesses.

John O. Mead

Witnesses:
Henry Howson
V. C. Goodwin.
He was a partner with and in Philadelphia PA as JOHN O. MEAD & SONS. 3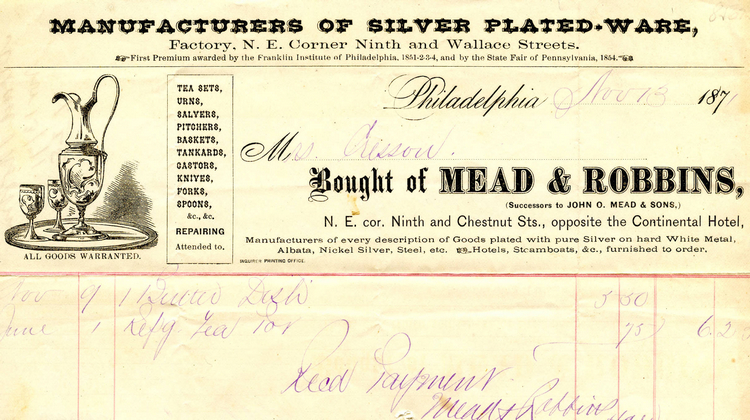 Receipt, 13 Nov 1871
Winterthur Library

John married Julia Perkins, daughter of Unknown and Unknown, on 19 Oct 1830 in West Springfield MA. (Julia Perkins was born on 29 Jan 1802 in West Springfield MA and died on 23 May 1881 in Philadelphia PA.)