Matthew Pratt
Born: 23 Sep 1734, Philadelphia PA

Marriage (1): Elizabeth Moore on 11 Dec 1756 in Philadelphia PA

Died: 9 Jan 1805, Philadelphia PA
General notes:
Artist
Matthew Pratt served an apprenticeship with his uncle James Claypoole, a limner and painter, from 1749 to 1755. Pratt opened a similar business which he interrupted with a brief speculative trading voyage to Jamaica. When he returned to Philadelphia he began to paint portraits, at which he proved very successful. He married Elizabeth Moore in 1760, and had two sons. His earliest known work is a portrait of his wife, c 1760.
In June 1764 Pratt escorted his cousin, Betsy Shewell, to London for her marriage to Benjamin West. Pratt remained in London as West's pupil and colleague, the first of West's many American students. During his two and a half years with West, he painted his best-known work, The American School, a depiction of West giving instruction to pupils in his London studio. He also made portraits of West and his wife, as well as copies of other paintings. He then went to Bristol, England, where for a year and a half he "practiced to much advantage in my professional line". He returned to Philadelphia in March 1768 to work full-time as a portrait painter for two years. He made a brief trip to Carlingford, Ireland, in March 1770 to claim an inheritance for his wife, and he painted a small number of portraits in Dublin and in Liverpool.
Pratt was successful in the years immediately before the American Revolution. Charles Willson Peale remembered later that Pratt at this time painted a full-length of John Dickinson and had "a considerable number of portraits on hand." He worked in New York City in 1771-72, where his commissions included a full-length portrait of Governor Cadwalader Colden, and he met John Singleton Copley. Pratt next worked in Williamsburg, Virginia, where he advertised in The Virginia Gazette (March 4, 1773) that he was "Lately from England and Ireland But last from New York".
Pratt's career was less successful after the Revolution. As a partner in the firm of Pratt, Rutter & Co., which offered "Portrait and ornamental painting", he returned to the functional brand of painting for which Claypoole had in part trained him, and was remembered by the next generation for his unusual signs. His work is difficult to characterize; few paintings are documented or firmly attributed. The American School is his only signed and dated work. This and other works from his London years show West's influence in their composition, coloring and technique. Later portraits suggest that this style changed under the influence of other English and American painters.
Events in his life were:
Apprenticed in 1748-1754 to James Claypoole in Philadelphia PA

Apprenticed in 1764-1767 to Benjamin West in London England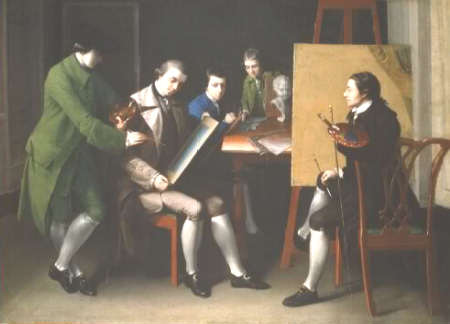 The American School, 1765
Metropolitan Museum of Art
The picture depicts a scene in the London studio of Benjamin West, who is generally agreed to be the figure standing at the left. Based on comparisons to self-portraits, Pratt seems to be the seated figure at the left who is showing a drawing to West. The identities of the other artists represented in the picture remain uncertain. A recent cleaning has revealed that a chalk underdrawing for a portrait of a lady was represented on the easel painting.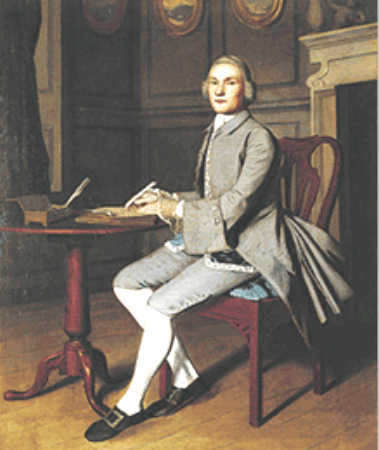 James Stanhope Claypoole at age 24, 1770
Private Collection

Matthew married Elizabeth Moore on 11 Dec 1756 in Philadelphia PA. (Elizabeth Moore was born on 24 May 1739 and died on 7 Jul 1777.)