Bancroft Woodcock
Born: 18 Jul 1732, Wilmington DE

Marriage (1): Ruth Andrews on 28 Jun 1759 in Wilmington DE

Died: 8 May 1817, Well's Valley PA
General notes:
Silversmith
Events in his life were: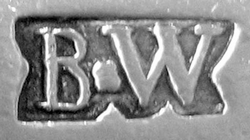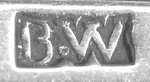 He worked in 1754-1790 as a silversmith in Wilmington DE 4
Advertised in the Pennsylvania Gazette, 4 Jul 1754, announcing the commencement of business:
Goldsmith. Hereby informs the publick, that he has set up his business in Wilmington, near the upper Market house, where all persons that please to favour him with their custom, may be supplied with all sorts of Gold and Silver work, after the neatest and newest fashions. N. B. Said Woodcock gives full value for old gold and silver. 4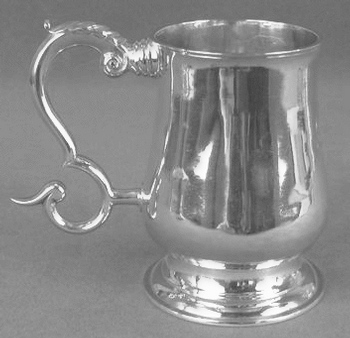 Cann, c 1770
Henry Luce III Center for the Study of American Culture
h: 6 5/8"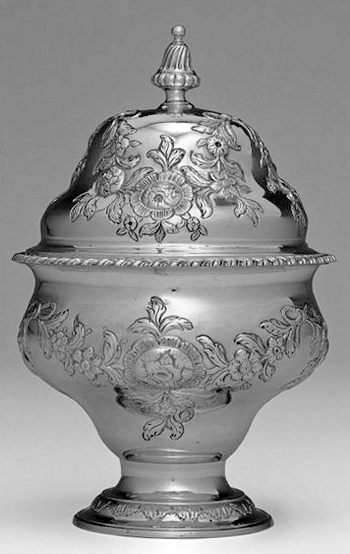 Covered sugar bowl, c 1770
Art Insitute of Chicago
h: 7 5/16"
d: 2 5/8"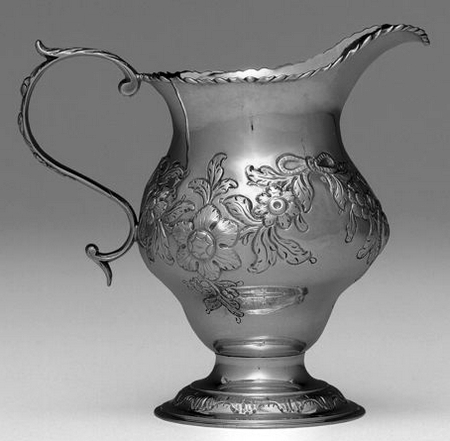 Creamer, c 1770
Art Insitute of Chicago
h: 4 1/4"
d: 2 1/4 (of base)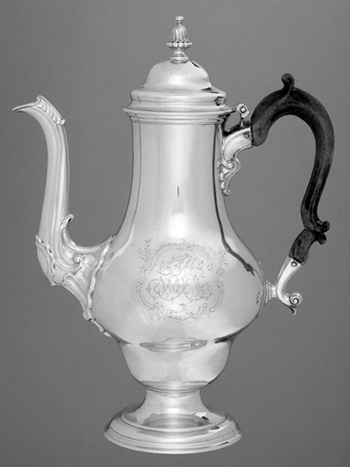 Coffeepot, c 1775
Washington DC
h: 13 1/16"
d: 4 5/16" (of foot)
wt: 38 oz, 17 dwt
On display in the John Quincy Adams State Drawing Room in the US Department of State.

He was a partner in 1790-1793 with Thomas Byrnes in Wilmington DE as WOODCOCK & BYRNES. 4
Advertised in the Delaware Gazette (Wilmington DE), 1790, announcing the partnership of WOODCOCK & BYRNES. 4
He worked circa 1793-1817 as a silversmith in Well's Valley PA 4
He wrote his will on 19 Oct 1815 in Bedford PA
I, Bancroft Woodcock being through divine Favour preserved in health of body and a sound mind and in the 84 year of my age do make this my last will hereby making void all wills by me at any time heretofore made. I will that my Executor pay all just debts and funeral charges as soon as may be after my decease. Item: I will unto my son Isaac Woodcock all my waring apparel and Silver Smiths Tools. Item: I will that what I have my Daughter Rachel James in her lifetime be and taken as her share of my estate. Item: I will unto my Nephew William Woodcock of the borough Wilmington my Cane. Item: I will and bequeath unto Ruth Tudor all the Residue and Remainder of my estate of what kind so ever to her, her Heirs and assigns forever. I do hereby nominate and appoint my trusty friend John Alexander Esquire, executor of this my last will".
In Witness whereof I have hereunto set my hand and seal.

Bancroft Woodcock, (seal)

Signed, sealed and declared by Bancroft Woodcock to be his will, in presence of us.

Christian Alexander,
Stephen Tudor
Asa Edwards

Admitted to probate in Bedford County on 13 May 1817.
Bancroft married Ruth Andrews on 28 Jun 1759 in Wilmington DE. (Ruth Andrews was born on 23 Jul 1734 and died on 30 Dec 1797 in Philadelphia PA.)