Zachariah Johonnot
Born: 20 Jan 1702, Boston MA

Marriage (1): Elizabeth Quincy in 1723 in Boston MA

Marriage (2): Elizabeth Waldron on 20 Dec 1759 in Boston MA

Died: 1784
Events in his life were: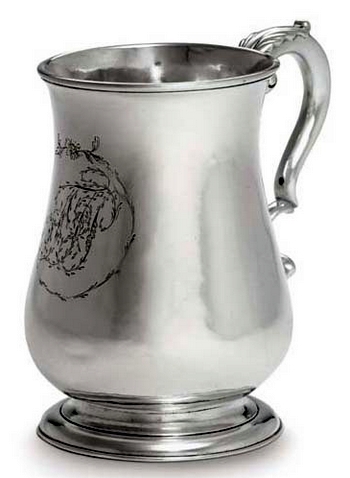 Cann by Paul Revere, 1766
Private Collection
h: 5 1/8"
wt: 12 oz
Engraved I over Z E on the handle. This cann is recorded in Revere's daybook on March 3, 1766 and was one of a pair. The mate is now in the collection of Museum of Fine Arts, Boston.
Zachariah married Elizabeth Quincy in 1723 in Boston MA. (Elizabeth Quincy was born in 1701 in Boston MA and died on 23 Nov 1773.)
Zachariah next married Elizabeth Waldron on 20 Dec 1759 in Boston MA.