John Hutchinson Buell
Born: 1752, Hebron CT

Died: 1813, Hebron CT
General notes:
Example
Events in his life were: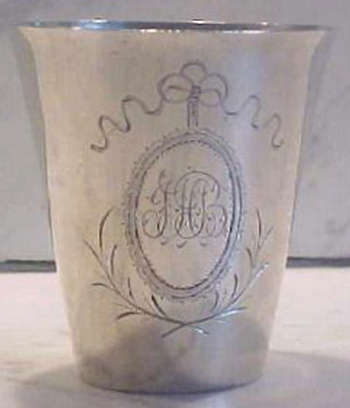 Camp cup by AvV (Abraham Van Voorhis?), 1790-1800
Private Collection
h: 3 1/8"
d: 3" (at lip)
Engraved JHB. An identical cup is in the Yale Art Gallery collection, maker unattributed, but of the PA/MD area. Buell was on the staff of General Washington, who had several camp cups made by Philadelphia smiths Richard Humphreys and Edmund Milne. Humphreys also made cups for Jeremiah Wadsworth and Nathaniel Greene.