Eli Terry
Born: 13 Apr 1772, East Windsor CT

Marriage (1): Eunice Warner

Died: 24 Feb 1852, Terryville CT
General notes:
Clockmaker
Events in his life were:
Apprenticed about 1785-1792 to David Burnap in East Windsor CT

He worked in 1793 as a clockmaker in Plymouth MA
Terry was a clever artisan and a proficient mechanic. Most of the early clocks that he manufactured were made with wooden works, as were most American clocks of this period. Iron was difficult to obtain and hard to work, and the brass industry had not yet begun. Wood was plentiful, there were plenty of quality species close at hand, and it could be crafted into beautiful pieces. His business grew and he was able to take on an apprentice himself and hire several employees as well. Terry saw the advantage in making clocks with standardized works, and he found that he could produce several clocks at the same time by adhering to these standards. He also began to use waterpower to run some of his equipment. By 1800 he was producing about 20 clocks at a time in his Plymouth clock factory.
In 1807, Terry sold his clock factory to one of his apprentices, and entered into a business arrangement with two other like-minded clockmaking entrepreneurs. One of these was Seth Thomas, whose name is associated with clocks through his own achievements, and through those of his son, also named Seth Thomas. Eli Terry and his partners set out to produce 4000 clocks. Their success in this venture can be attributed to multiple factors. They kept their parts and mechanisms standardized. They used efficient manufacturing and consistent assembly techniques that allowed them to produce a sizeable quantity at one time. The result was a quality product that could be sold at a reasonable price for a profit. The partners completed their 4000-clock project in 1810.
Eli Terry continued his clock-making operations in a new factory he set up in what is now Thomaston, Connecticut. He relied on his efficient manufacturing methods and standardized, interchangeable parts to keep his business flourishing. By 1830, the brass industry was well-established, and American clockmakers found that sheet brass was an excellent material for crafting clock plates, wheels, and gears. Brass gear teeth were stronger than wood. Brass did not warp as wood did, and brass mechanisms could survive sea voyages far better than wood. This opened up the market for American clockmakers to export their products overseas. Eli Terry found that well-designed brass movements kept excellent time and could be produced economically in mass quantities. He successfully designed a woodcased shelf clock with brass movements, which proved to be an excellent clock that was both attractive and affordable. Eli Terry worked for the rest of his life improving on his production methods, and perfecting his designs.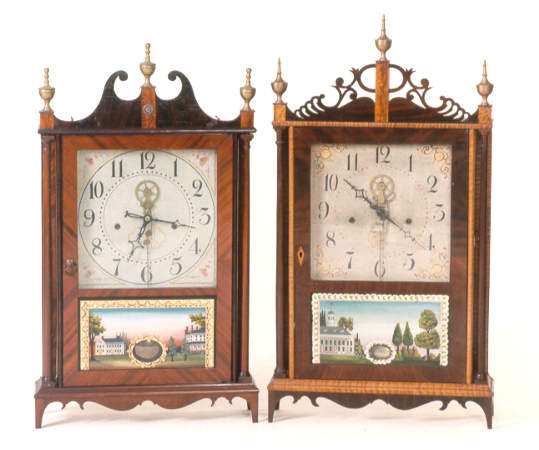 Shelf clocks, c 1800
Private Collection

Eli married Eunice Warner. (Eunice Warner was born on 31 May 1773 in Plymouth CT and died on 13 Dec 1839 in Plymouth CT.)