Benjamin Bussey
Born: 1 Mar 1757, Canton MA

Marriage (1): Judith Gay on 24 Aug 1780 in Dedham MA

Died: 13 Jan 1842, Boston MA
General notes:
Silversmith
Events in his life were:
He worked in 1778-1782 as a silversmith in Dedham MA
It is recorded that he learned his trade from a Hessian soldier who remained after the Revolution. He started with a small shop in Ponkapoag, but soon moved on to Dedham. Bussey went on to become a wealthy importer and merchant in Boston. He traded in various European countries in goods such as salt, sugar, cotton, cocoa, flour, and wine. The William L. Clements Library at the University of Michigan has a small colllection of business and personal papers from this period. His estate at Woodland Hills had a library of 18,000 volume. 8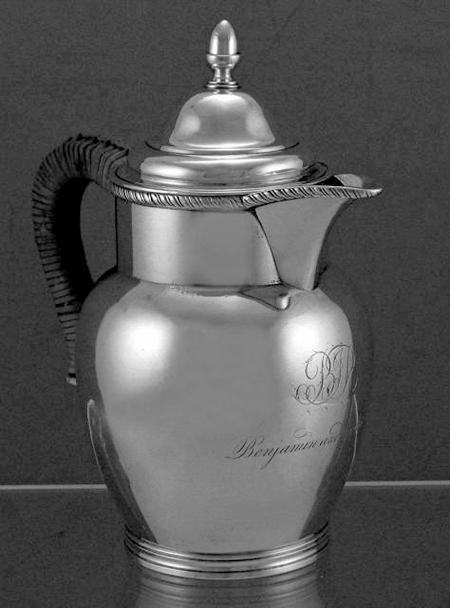 Jug by Jesse Churchill, c 1800
Private Collection
h: 7"
wt: 15 oz.
Engraved "BJB over Benjamin and Judith Bussey"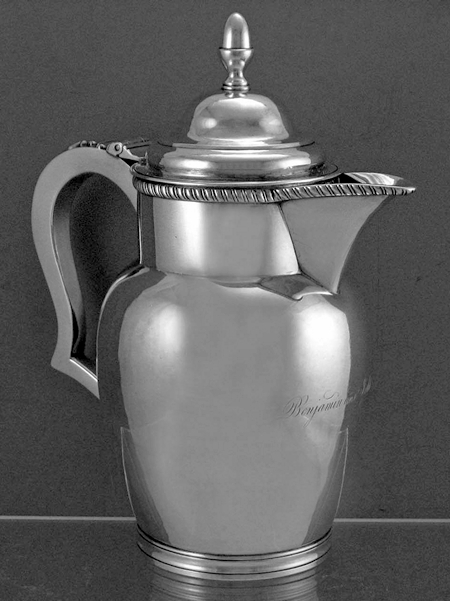 Jug by CHURCHILL & TREADWELL, c 1810
Private Collection
h: 9 1/2"
wt: 27.5 oz.
Engraved "Benjamin and Judith Bussey"
Benjamin married Judith Gay on 24 Aug 1780 in Dedham MA. (Judith Gay was born on 30 Aug 1762 in Dedham MA and died on 1 May 1849.)