William Moulton
Born: 12 Jul 1720, Newbury MA

Marriage (1): Lydia Greenleaf on 16 Sep 1742 in Newburyport MA

Died: 1793, Marietta OH
General notes:
Silversmith
Events in his life were:


He worked in 1742-1762 as a silversmith in Newburyport MA 1

Placespoon, c 1760
Private Collection
l: 7 1/2"
Engraved M + L
He worked in 1762-1788 as a silversmith in Hempstead NH where several land purchases are recorded. 1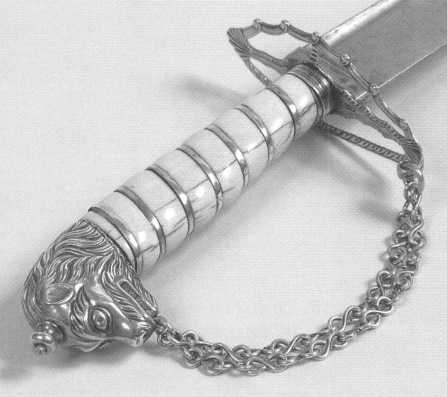 Sword, c 1770
Private Collection 2
l: 5 7/8" (hilt)
A typical form of the weapon differing from the normal only in that the lion's head (often referred to as "dog's head") is very narrow when viewed full face. Three other William Moulton lion head pommel swords are recorded: Stephen V. Grancsay collections (as of 1955), length 33 1/2" overall, blade 27 1/2", with scabbard; the Philip H. Hammerslough collections, length 38" overall, blade 32 1/4" (as William Moulton IV) now at the Wadsworth Atheneum; and a twice-marked sword once owned by Revolutionary War officer Ebenezer Morgan (Antiques Dec. 1944, p. 343.) The Moulton family did a big business in sword production.
He worked in 1788-1793 as a silversmith in Marietta OH
Travelling overland in a covered wagon, he was one of the forty-eight pioneers to settle in the Northwest Territory. His wife, two daughters, and youngest son joined him in 1789. The Founders of Ohio: Brief Sketches of the Forty-Eight Pioneers, by Julia P. Gutter, published in 1888, gives an eyewitness account of an Indian raid on the town in 1791:
". . . next [came in], old Mr. William Moulton from Newburyport, Mass., aged seventy, with his leather apron full of old goldsmith's tools and tobacco. Close at his heels came his daughter, Anna, with the china teapot, cups and saucers. Lydia brought the great Bible. But when all were in, the mother was missing: where was mother? She must be killed. "No," says Lydia, "mother said she would not leave the house looking so. She would put things away and a little more to rights, and then she would come." Directly mother came, bringing the looking glass, knives and forks, etc." 1
William married Lydia Greenleaf on 16 Sep 1742 in Newburyport MA. (Lydia Greenleaf was born on 16 Jan 1723 in Newbury MA and died in Marietta OH.)