Socrates Ayers
Born: 14 Oct 1814, Ulysses Tompkins NY

Marriage (1): Susan Harris
General notes:
Silversmith, jeweler, and watchmaker
Events in his life were:

He worked in 1836-1870 as a silversmith, watchmaker, and jeweler in Elmira NY having purchased the business of Francis Collingwood. Listed in the 1860 city directory at 99 Water Street. 4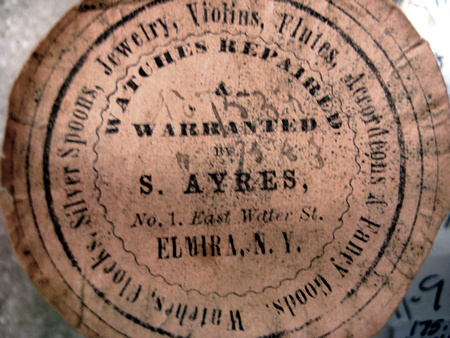 Watchmaker, c 1840
Private Collection

He was a partner circa 1865 with Stephen Beckwith Ayers in Elmira NY as S. & S. B. AYERS, with a shop at 99 Water.
Socrates married Susan Harris. (Susan Harris was born on 19 Oct 1815 in Ulysses Tompkins NY.)