Kiliaen Van Rensselaer
Born: 24 Aug 1663, Rensselaerville NY

Marriage (1): Mary Van Cortlandt on 15 Oct 1701 in New York City NY

Died: 16 Sep 1719, New York City NY
General notes:
Silversmith
Events in his life were:
Apprenticed in 1682-1683 to Jeremiah Dummer in Boston MA 18,27
In 1682, Stephanus van Cortlandt wrote to his sister: "The man to whom I recommended your son Kiliaen at Boston hanged himself, so that Mr. Patichall and Mr. Usher have apprenticed him to one Mr. Jeremy Dummer. It seems that Kiliaen is not used to living as plainly as they do here." Another relative wrote: "We received a letter from Kiliaen. He is not sorry that he went away. He is with a good master but earns no money ... he himself writes that he sees a fine opportunity for the trade in silversmith's work. Mr. Utscher and Mr. Paterschall are sureties for him in case he should undertake some big piece of work and spoil it, so that he would have to stand the loss." This is an aspect not suggested in any consideration of goldsmiths or apprentices, nor hinted in Hull's and Sewall's diaries. Kiliaen's mother later wrote that she "let him set up the silversmith's shop in the country," but no mark is known that can be attributed to him.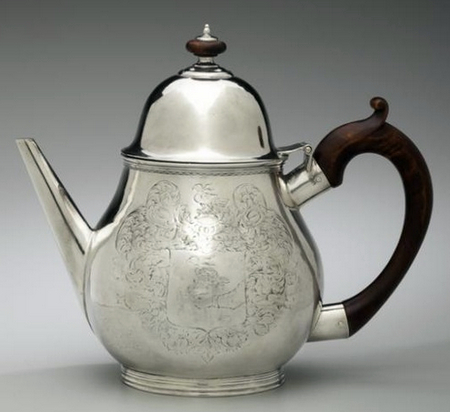 Teapot, c 1695
New York Historical Society
The pot is unmarked and the attribution is tentative, though traditional; if true, it would be the earliest New York made teapot known.
Kiliaen married Mary Van Cortlandt, daughter of Stephanus Van Cortlandt and Gertrude Schuyler, on 15 Oct 1701 in New York City NY. (Mary Van Cortlandt was born on 4 Apr 1680 in New York City NY.)