Zalmon Stone Bostwick
Born: 9 Sep 1811, Hinesburg VT

Marriage (1): Orianna H. Hanks on 16 Apr 1839 in New York City NY

Died: Bef 1870
General notes:
Silversmith
Events in his life were:


He worked in 1841-1852 as a silversmith in New York City NY
He bought the shop of William Thompson in 1845 and is listed in the 1850 New York Union Mercantile Directory at 158 William Street. 18
Advertised in the Evening Post (New York City NY), 11 Mar 1847, describing himself as "successor to Thompson [sic], 128 William Street," and announcing his willingness to manufacture ". . . to order, a full and complete assortment of silver ware in all its branches, embracing plain, chased, and wrought silver cups, urns, vases, etc. Also complete sets of plate of different patterns."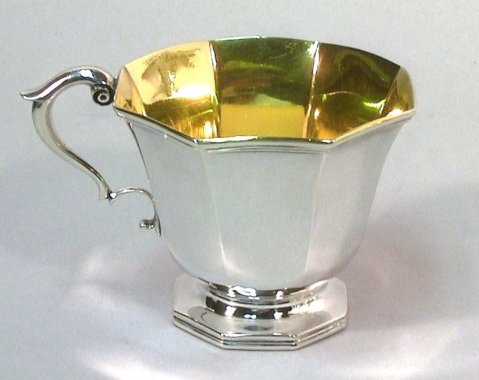 Punch cup, c 1848
Private Collection 1
h: 3 3/8"
w" 3 3/4" (lip)
Zalmon married Orianna H. Hanks on 16 Apr 1839 in New York City NY. (Orianna H. Hanks was born on 31 Oct 1816 in Pawlet Bennington VT and died on 31 May 1897 in Brooklyn NY.)