Jordan Mott
Born: 6 Feb 1768, Hempstead NY

Marriage (1): Lavinia Winifred Stryker on 24 Sep 1801 in New York City NY

Died: 8 Jan 1840, New York City NY
General notes:
Silversmith
Events in his life were:
He worked in 1796-1836 as a silversmith, watchmaker, and jeweler in New York City NY 4
He was a partner in 1797-1801 with ? Mitchell in New York City NY as MITCHELL & MOTT, with a shop at 247 Pearl Street. Mott also maintained separate listings in 1798 at 104 Gold Street and in 1802-1803 at 39 Frankfort Street.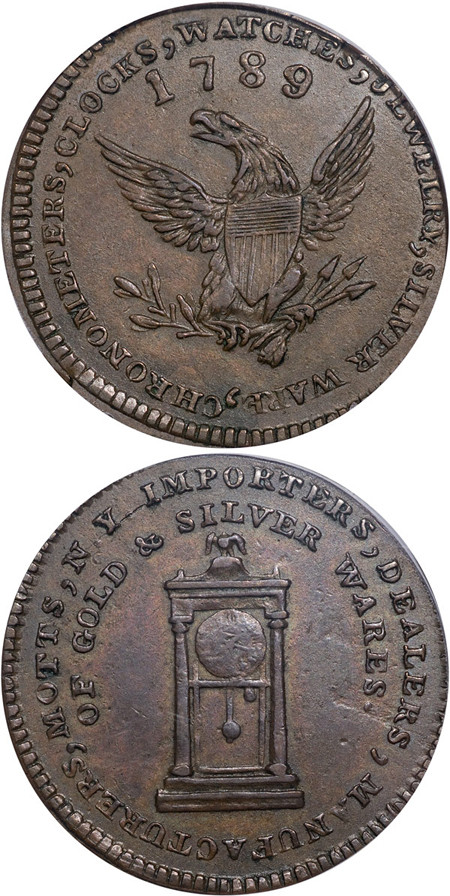 Trade token, c 1800
New York City NY


He was a partner in 1804-1809 with Jacob Morrell in New York City NY as MOTT & MORRELL. After Morrell died in 1808, the partnership was continued by his widow. 4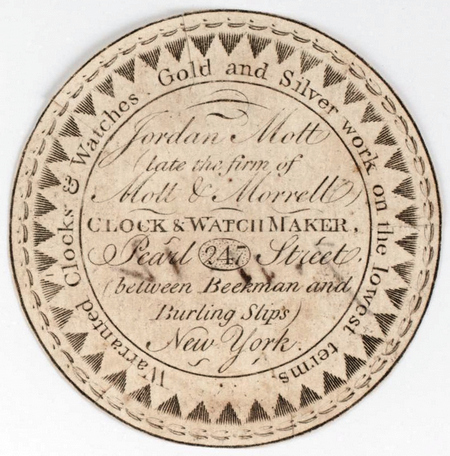 Watch paper, c 1812
American Antiquarian Society


He was a partner in 1835-1836 with Jacob and Jordon Mott Jr in New York City NY as J. H. & JORDAN MOTT, Jr., listed in the 1836 city directory at 9 Nassau Street. 4

Jordan married Lavinia Winifred Stryker, daughter of James Stryker and Unknown, on 24 Sep 1801 in New York City NY. (Lavinia Winifred Stryker was born on 27 May 1782 in Striker's Bay NY, christened on 27 Jul 1782 and died on 16 Mar 1862.)