Isaac Chauncey Lewis
Born: 19 Oct 1812, Wallingford CT

Marriage (1): Harriet Pomeroy on 11 May 1836

Died: 7 Dec 1893, Meriden CT
General notes:
Pewtersmith
Events in his life were:

Apprenticed in 1827-1831 to Hiram Yale in Wallingford CT

He worked in 1831-1875 as a pewtersmith in Meriden CT
For the first two years, he worked as a journeyman for his brother's firm, LEWIS & HOLT.
Coffeepot, c 1840-1850
Yale University
h: 10"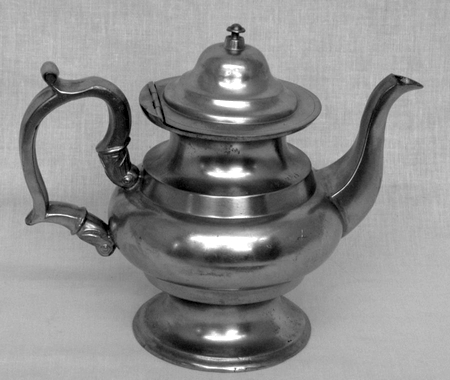 Teapot, c 1845
Private Collection
h: 7 7/8"
d: 5 3/4"
He appeared on the 1850 census taken at Meriden CT, listed as a manufacturer. Also enumerated in his household were the pewtersmiths
Daniel B. Wells
Friend C. Booth
William Lizer
Joseph Addice
Miles Clark
Austin Phelps
Caleb Francis
Nelson Cornwall
Charles Bow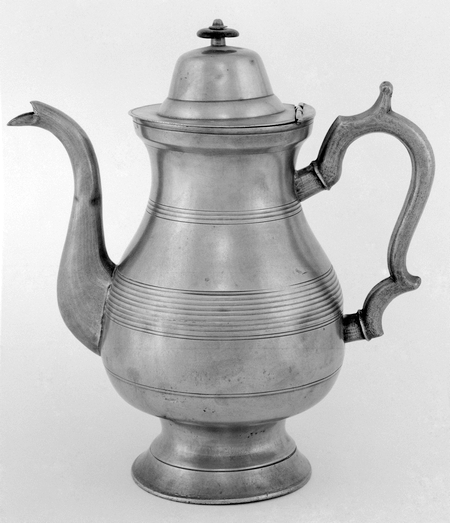 Teapot by LEWIS & COWLES, c 1855
Winterthur Library
h: 11 1/2"
d: 4 1/2" (at belly)
He was a partner in 1856-1858 with Lemuel Curtis in Meriden CT as LEWIS & CURTIS.
Isaac married Harriet Pomeroy, daughter of Noah Pomeroy and Nancy Merriman, on 11 May 1836. (Harriet Pomeroy was born on 27 Mar 1817 in Meriden CT and died on 21 Feb 1899.)