Eli Henry Eldridge
Born: 26 May 1828, Taunton MA

Marriage (1): Lydia Thrasher on 2 May 1850 in Taunton MA
General notes:
Pewtersmith
Events in his life were:
Apprenticed in 1843-1845 to REED & BARTON in Taunton MA

He worked in 1845-1848 as a prewtersmith in Dorchester MA in the shop of Roswell Gleason, where his father was superintendent.
He was a partner in 1863-1875 with Eli Eldredge in Taunton MA as ELDRIDGE & Co.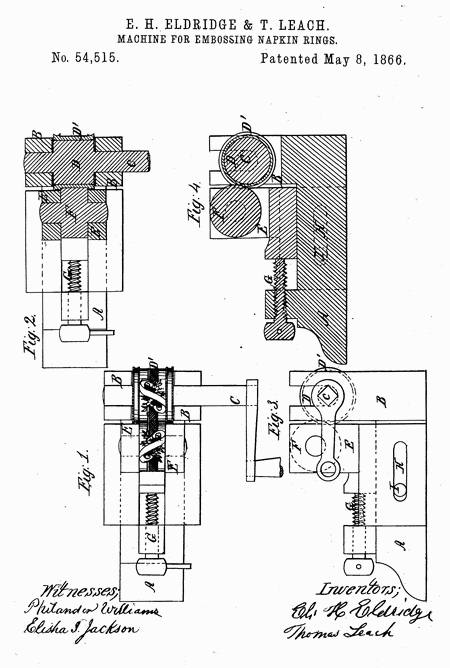 He was issued patent number 54,515 on 8 May 1866

ELI H. ELDEIDGE AND THOMAS LEACH, OF TAUNTON, MASSACHUSETTS.

IMPROVED MACHINE FOR EMBOSSING NAPKIN-RINGS.

Specification forming part of Letters Patent No. 54,515, dated May 8, 1866.

To all whom it may concern :
Be it known that we, ELI H. ELDRIDGE and THOMAS LEACH, of Taunton, county of Bristol, and State of Massachusetts, have invented a new and useful machine for performing the chased or embossed work on napkin-rings, and other articles to imitate engine-turning; and we do hereby declare the same is fully described and represented in the following specification and accompanying drawings, of which—
Figure 1 represents a top view of our invention; Fig. 2, a horizontal section, Fig. 3 a side elevation, and Fig. 4a vertical section, of same.
The nature of our invention consists in the construction of two plain rollers with appropriate appendages, on one of which we place the article to be embossed, and through which we convey the power to revolve both. On the other, which is also adjustable, we place a metallic ring, on the periphery of which, or on the roller itself, is engraved the device or pattern to be chased or embossed on the said article. We now, by turning the set-screw, bring up both rollers in close contact, and by means of the crank revolve both rollers, when the device is transferred to the article to be embossed.
In the drawings, A is the block or frame, with bearing B for sustaining the crank O and roller D on which the article D' to be embossed is placed. E is an adjustable stand or bearing for sustaining the roller F, on which the patterning is placed, said roller F being placed a little above the roller D for the purpose of sustaining the latter in position. Gr is a set-screw, for the purpose of adjusting the pattern-ring roller in relation to the roller containing the article to be embossed; H H, slots in the legs of the slide-bearing E, which straddles the block A; and II are pins in the block A, both pins and slots tending to secure the horizontal movements of the pattern-roller. It is well known to persons acquainted with the art of engine-turning that the machinery used for the purpose is not only very expensive, but very liable to get out of order on account of its being very complicated. Besides this, a design or configuration is seldom completed by the engine alone without resorting to hand-labor, consuming both time and profit.
By our invention these difficulties are obviated, inasmuch as our invention, being simple, requires no complicated, machinery, is not liable to get out of order, can be built for a fraction of the cost of a turning-engine, and will, by simply revolving the crank, perform the work of twenty engines, at the same timn imparting to the napkin-ring or other article a superior accuracy and elegance of ornamentation, whereby we are enabled not only to compete with the best in the market, but to sell for fifty per cent of their cost.
What we claim, and desire to secure by Letters Patent, is—
The above described chasing or embossing machine, constructed and arranged substantially as and for the purposes set forth.
In testimony whereof we have hereunto set our signatures.

Eli H. Eldeidge
Thomas Leach

Witnesses:

Philander Williams
Elisha T. Jackson
He was a partner in 1875-1890 with John H. Eldredge in Taunton MA as ELDRIDGE & Co.
Eli married Lydia Thrasher on 2 May 1850 in Taunton MA. (Lydia Thrasher was born on 16 Jan 1833 in Taunton MA.)