Thomas Bentley
Born: 10 Jan 1764, Boston MA

Died: 11 Dec 1804, Boston MA
General notes:
Silversmith and jeweler
Events in his life were:

Alternate Mark
tentative attribution. Taken from one of a set of spoons that descended in the Bentley family. Ensko, in a drawing, shows a similar mark.

He worked in 1789-1803 as a silversmith in Boston MA
Listed in city directories at Distill House Lane (1789-1796) and Salvation Alley (1796-1803).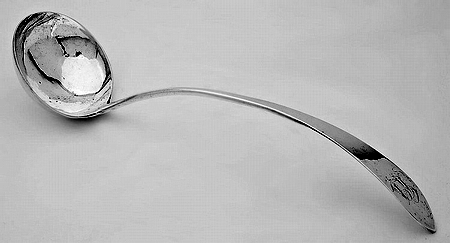 Ladle, c 1795
Private Collection
l:14"
wt: 6.39 oz
Struck with the second alternate mark above.
, . From the diary of William Bentley
December 1804, Day 11

This day died my Brother Thomas Bentley, in Boston . He was of the twin children born 10 Jan 1764. He was not so well educated as he might have been, as my Father took no pains to give his children as good education as he had himself & my Mother had none at all. Thomas was named after his Grandfather Bentley, as I was after my Grandfather Paine. He was inferior to none of us in point of capacity , but the Grandfather, after whom he was named did not take such care of him as I received for my name. He was bound and apprenticed to one Emery, a jeweller, or Silversmith , who was then in high reputation. My Brother made all the proficiency in his art known in his time and added such other parts as his fruitful invention assisted & was a good Engraver upon Silver, & for his business. In all this time he was taught nothing which led to correct his manner s & taste for songs and social glee soon gave wrong bent to his genius. It was hoped that marriage would put him right, but alas, the woman he married had not sprightliness enough to amuse him, or prudence enough to govern him, & he soon became a pet companion. After having increased his family & deranged his affairs. After having been a heavy tax upon our feelings & interest, he ventured down to Gloucester. In that place he confirmed all his ill habits & got no good ones, till stripped of all his property he returned to Boston. He found ready employment, but he never found ready resolution to be steady. After having tired all his friends, he returned with his family into the arms of his Parents. Our mother soon fell a victim to her cares. In her complaints he was removed into the country but he still was unreformed & habitually intemperate. He was brought back to his father's house on the 7 & died on the 11 of December. He has left a wife and four small children. Thomas was good tempered, sacredly honest, a man of truth, & when temperate, of ceaseless industry. Ingenious, persevering, he was excellent in his calling. But he loved society & he found not such as he loved at home. Dissipation succeeded to his social indulgences & he died pitied & yet without an enemy.