Timothy Jay Chandler
General notes:
Silversmith
Events in his life were: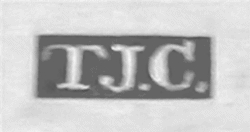 He was a partner on 29 May 1820-12 Jan 1829 with Timothy Chandler in Concord NH as TIMOTHY CHANDLER & SON. 3
Advertised in the Hancock Gazette (Belfast ME), 19 Feb 1823, announced he had taken a shop lately occupied by Mr. Eastman (presumably Abiel Eastman's shop) and had for sale gold and silver items. 3
Flynt & Fales:, . 3 In 1848 he was judged insane by the Selectmen of Concord. His brother Abiel Chandler was named his guardian.