Enos Reeves
Born: 4 Feb 1753, Cumberland NJ

Marriage (1): Amey Legare on 21 Dec 1784 in Charleston SC

Died: 23 Jun 1807
General notes:
Silversmith
Events in his life were: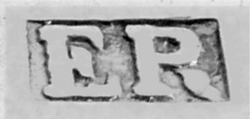 Sugar tongs, c 1790
Private Collection
l: 6"
wt: 1 oz
Advertised in the Columbian Herald (Charleston SC), 16 Jul 1796,
Enos REEVES, Goldsmith and Jeweller, No. 47, Broad-street, Informs his friends and customers, that having been burnt out of his former place of residence, he has procured a place, as a shop (for the present) at Mr. Gardner's, No. 47, Broad-street, three doors from the corner of King-street where all kinds of work in the Jewellery, Gold, Silver, Hair and Engraving Lines, will be thankfully received executed with dispatch and in a workman like manner. He Has For Sale, A number of articles in the above branches, which will be disposed of at the lowest prices. F. Reeves Having Lost, At the late fire a number of Table cloths, sheets, pillow-cases, towels, men's and children's shirts all of which are marked with the initials of the Christian name and the surname Reeves in full, supposed to be contained in two fire bags, one lettered W. P. Young, and the other E. Reeves & Co. Vigilant. Also, A quantity of Silversmith's Tools Which he is not certain of being carried away from the fire: He will thank and reward any person, who will give him information where any of the above articles are deposited.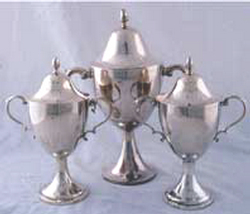 Communion cups, c 1799
Charleston Museum 58
Made for the Meeting Street Congregational Church:
"To the following amounts paid...31st October, 1798 for 84 ounces and 3 dwt of Spanish cut silver...for the purpose of making two large and two smaller wine cups, with handles and shifting covers...which silver I put into the hands of Enos Reeves as the only person in Charleston capable of finishing such in a proper manner; and of whom have only received the smaller cups in June last...he is very slow about them, and his pew rent is to be discounted from his charge of making 21.0.8"
Enos married Amey Legare on 21 Dec 1784 in Charleston SC. (Amey Legare was born on 30 Jan 1760 in Charleston SC and died on 15 Sep 1804 in Charleston SC.)