Daniel Treadwell
Born: 10 Oct 1791, Ipswich MA

Marriage (1): Adeline Lincoln on 6 Oct 1831

Died: 26 Feb 1872, Cambridge MA
General notes:
Silversmith
Events in his life were:
Apprenticed in 1805-1807 to Isaac Dodge Treadwell in Newburyport MA
Following is brother's failure, he went to Boston to train under Jesse Churchill.

He was a partner circa 1810-1813 with Jesse Churchill in Boston MA as CHURCHILL & TREADWELL, with a shop at 88 Newbury Street in Boston. 4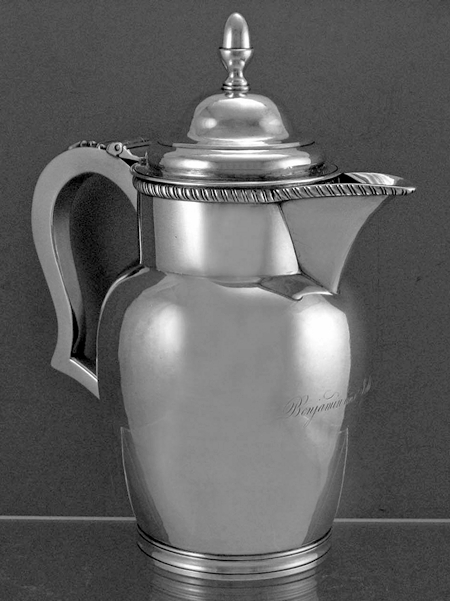 Jug by CHURCHILL & TREADWELL, c 1810
Private Collection
h: 9 1/2"
wt: 27.5 oz.
Engraved "Benjamin and Judith Bussey"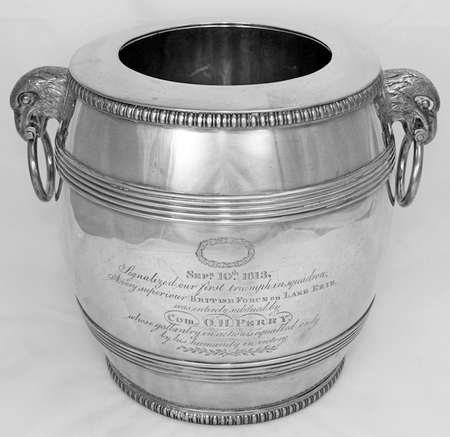 Wine cooler, c 1813
Mead Art Museum
h: 9 9/16"
w: 8 1/2"
Engraved "Sepr 10th 1813 / Signalized our first triumph in squadron / A very superior British Force on Lake Erie / was entirely subdued by / Com. O. H. Perry / whose gallantry in action is equalled only / by his humility in victory"
Boston MA, 1813:
Preferring to experiment with mechanical devices, he set aside his trade after the end of his partnership with Jesse Churchill. He patented a power printing press in 1826 and by 1835 had secured several patents for his machines for spinning hemp.
Daniel married Adeline Lincoln on 6 Oct 1831. (Adeline Lincoln was born on 24 May 1804 in Hingham MA and died on 27 May 1885 in Boston MA.)