Nicholas Tillinghast
Born: 30 Sep 1804, Taunton MA

Died: 10 Apr 1856, Bridgewater MA
General notes:
Example
He was graduated at the United States military academy in 1824, and entering the United States army as 2nd lieutenant in the 7th infantry, served for two years on garrison duty at Fort Gibson in the Indian territory. Afterward he returned to the military academy, where, in 1827-1834 he was successively assistant professor of chemistry, mineralogy, and geology, and of geography, history, and ethics, He was promoted captain on 1 June, 1835, and joined his regiment at Fort Gibson, but resigned on 31 July, 1836. Captain Tillinghast then settled in Boston, where he received pupils in mathematics. In 1840 he was appointed principal of the state normal school at Bridgwater, and he continued to fill this post until failing health compelled his resignation in July, 1853. Bridgewater Normal later became Bridgewater State College. The Nicholas Tillinghast Award is given to Massachusetts teachers for excellence in education.
Events in his life were: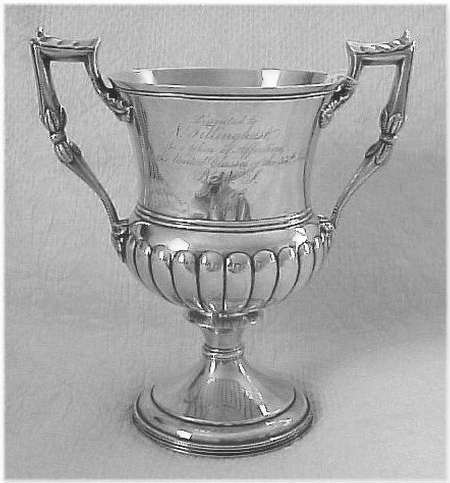 Presentation cup, maker unknown, 1 Jul 1851
Private Collection
h: 9"
wt: 32 oz
Engraved "Presented to / N. Tillinghast, / As a token of Affection, / by the United Classes of the 34th Term, / B.N.S., / July 1st, 1851"