John Coddington
Born: 23 Mar 1690, Newport RI

Marriage (1): Elizabeth Rogers on 25 Aug 1736 in Newport RI

Died: 1743
General notes:
Silversmith
Events in his life were:
Master to Peter Vewness 1716 in Newport RI. 9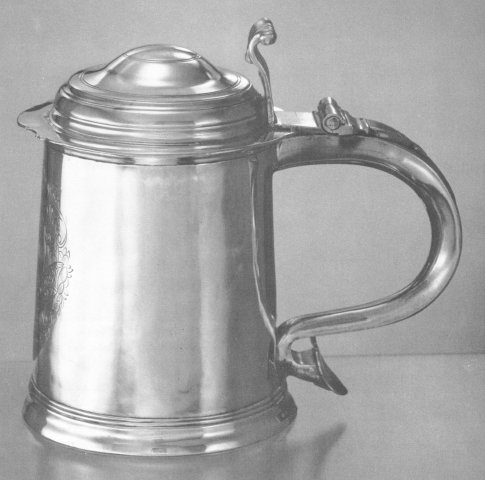 Tankard, c 1720-1730
Yale University 13
h: 6 7/16"
d: 41/2" (base)
wt: 24 oz, 6 dwt
Engraved with Robeson (?) arms, "R over I C" for Andrew Robeson and Jonathan and Catherine (Farmer) Robeson
Appointed in 1722 as Justice of Peace in Newport RI 3
Appointed in 1721-1729 as Member of House of Deputies in Newport RI 3
Cup, c 1725
Private Collection
h: 2 3/4"
One of a set of three.
Appointed in 1733-1735 as Sheriff in Newport RI 3
John married Elizabeth Rogers on 25 Aug 1736 in Newport RI. (Elizabeth Rogers was born in 1705 in Newport RI and died on 23 Sep 1745 in Newport RI.)