Green Hall
General notes:
Silversmith and jeweler
Events in his life were:
He worked in 1808-1813 as a silversmith in New York City NY
Listed in Longworth's American Almanac for 1808 at 266 Broadway. 4
He worked in 1813 as a silversmith and jeweler in Albany NY
Listed in Fry's Albany Directory at 34 State Street.

He was a partner in 1814-1819 with Thomas H. Carson in Albany NY as CARSON & HALL with a shop at 34 State Street. The firm advertised its dissolution on 28 September 1819. 8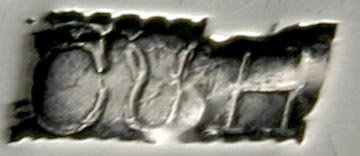 He worked in 1819-1827 as a silversmith in Albany NY 18
Advertised in the The Albany Gazette (Albany NY), 28 Sep 1819, announcing that "Green Hall, of the late firm Carson and Hall . . . had removed from the old stand corner of State and Market-street, nearly opposite A. Moody's Tavern."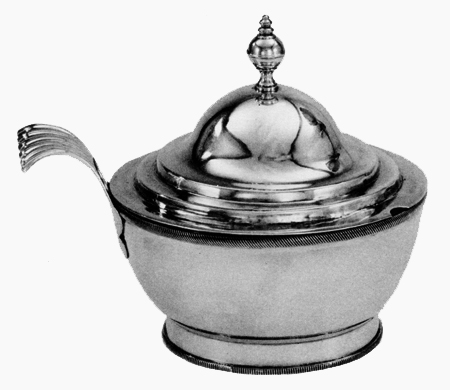 Porringer, c 1820
Private Collection
h: 5"
dia: 4 7/8"
Engraved C E B for Catherine Elizabeth Beck.
Advertised in the The Albany Gazette (Albany NY), 8 Jun 1821, calling attention to his shop at "No. 11 Plain-street, (a few doors west of South Pearl-street.)" where he "Makes and will keep for sale, wholesale or retail" an extensive range of silver goods. He also adds "G. H. having given up shop keeping intends to devote his whole attention to manufacturing, and believes he shall be able to supply shop keepers and others at reduced prices."
Advertised in the Connecticut Advertiser, 28 Sep 1822, seeking a journeyman silversmith to work at spoon manufacturing in Albany. 4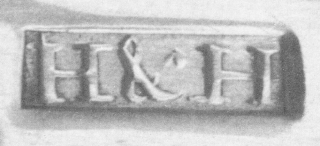 He was a partner in 1828-1838 with John D. Hewson in Albany NY as HALL & HEWSON. 4

Teaset, c 1835
Private Collection
h: 8 7/8" (teapot)




He was a partner in 1850-1852 with Sperry Douglas Brower in Albany NY as HALL & BROWER, listed in Munsell's 1852 City Directory at 10 Plain Street.