Daniel Russell
Born: 19 Jun 1698, Branford CT

Marriage (1): Mary Mumford on 30 Aug 1722 in Newport RI

Died: 1750, Newport RI
General notes:
Silversmith
Events in his life were: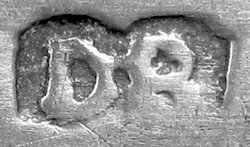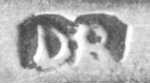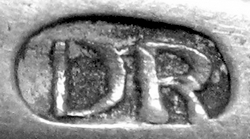 Alternate Mark
Assigned by some to son Daniel, but possibly used by both men.
He worked in 1722-1750 as a silversmith in Newport RI and noted as a goldsmith in Richardson's Scrapbook. 3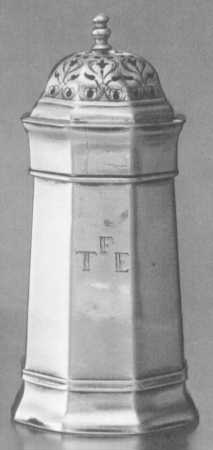 Pepper box, c 1725-1740
Yale University 13
h: 4 1/4"
d: 2 1/16" (base)
wt: 2 oz, 14 dwt

Gold Locket, c 1740
Museum of Fine Arts, Boston
l: 1"
wt: 2 1/2 dwt
A similar locket, dated 1742, is in the Yale University collection.
Daniel married Mary Mumford on 30 Aug 1722 in Newport RI. (Mary Mumford was born circa 1698 and died on 10 Apr 1745 in Newport RI.)