James Ridgway
Born: 1770, Boston MA

Christened: 18 Mar 1770, Boston MA

Marriage (1): Faith Stowell on 12 Jan 1802 in Worcester MA

Died: 11 Sep 1850
General notes:
Silversmith
Events in his life were:

Alternate Mark the attribution is open -- this may be the mark of John Ridgway.
He worked in 1789-1793 as a silversmith in Boston MA with a shop on Friend Street. 3
He worked in 1793 as a silversmith in Groton MA 3
He worked in 1793-1803 as a silversmith in Worcester MA 3
Advertised in the The Massachusetts Spy (Worcester MA), Aug 1793-Sep 1793, "James Ridgway, goldsmith and jeweller from Boston, respectfully informs his friends and the public that he has moved his shop lately occupied by Mr. T. S. Eayres, nearly opposite the Court House in Worcester. . . " 3
He was a partner in 1817-1819 with John Rockwood in Keene NH as RIDGWAY & ROCKWOOD. The shop was purchased by Samuel Allen Gerould in 1819.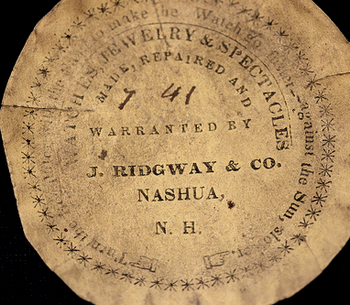 Watch paper
Private Collection

James married Faith Stowell, daughter of Abel Stowell and Relief Jennison, on 12 Jan 1802 in Worcester MA. (Faith Stowell was born on 9 Nov 1782 in Worcester MA and died on 6 Dec 1856.)